As the first half of 2020 has taught us, the human tribe is resilient.  We have learned that when life gives us lemons that we make lemonade and to focus on what we can do versus what we cannot. Part of that learning is our newfound appreciation of the great outdoors. To be out in nature as a way to have an adventure, to exercise and breathe in fresh air and to restore our spirit and all the while social distancing. But getting out in nature doesn't necessarily mean roughing it in a sleeping bag and eating hot dogs and beans. Glamping is the exquisite compromise allowing for us to explore the great outdoors with all the creature comforts to which we've grown accustomed.  Arguably no country does it better than Australia, where trekking, caravanning, and camping are a birthright.  Here are several luxurious glamping options that make an ideal side trip from a visit to Australia's most cosmopolitan city, Melbourne.
French Island Glamping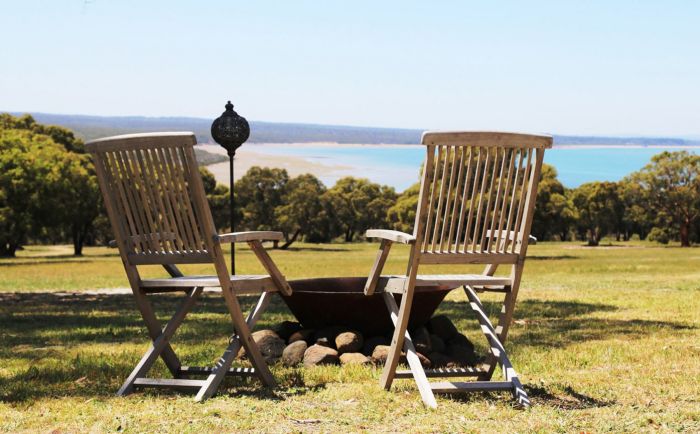 French Island is a remote island a few hours south of Melbourne and to get there requires a short ferry ride.  The island is large at 65 square miles yet is sparsely populated with only 100 residents living there. French Island is so remote that it was once Australia's version of Alcatraz and housed its prison population. The prisoners are long since gone and in its place is a pristine coastline and central area of untouched eucalyptus forests, scrub bushes and the occasional farmland and paddocks. This is where you'll find French Island Glamping.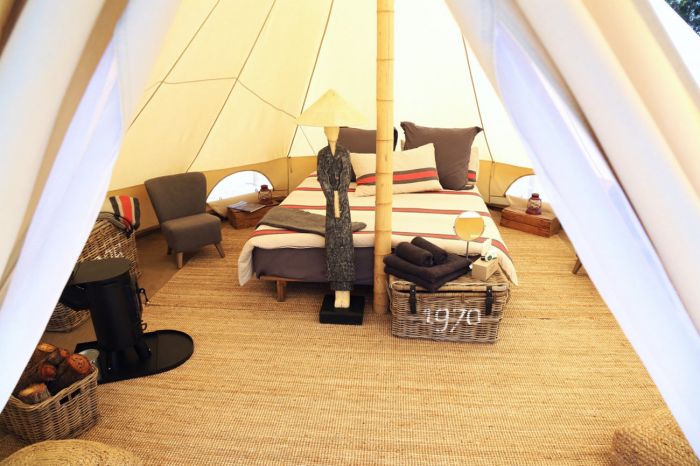 The camp sits on 100 acres of land with the homestead of the owners and five spread out safari style Bell tents with unobstructed views overlooking the natural landscapes and coastline. The sustainable camp is completely off the grid and relies on rainwater as well as solar and wind energy with diesel power as back up.  The roomy tents have all the amenities necessary for a holiday with a comfy queen size bed and a kettle fire stove to warm the tent on chilly nights. Guests share common areas of a well-equipped gourmet kitchen, gas barbeque grills, and a circle of chairs around a campfire at night.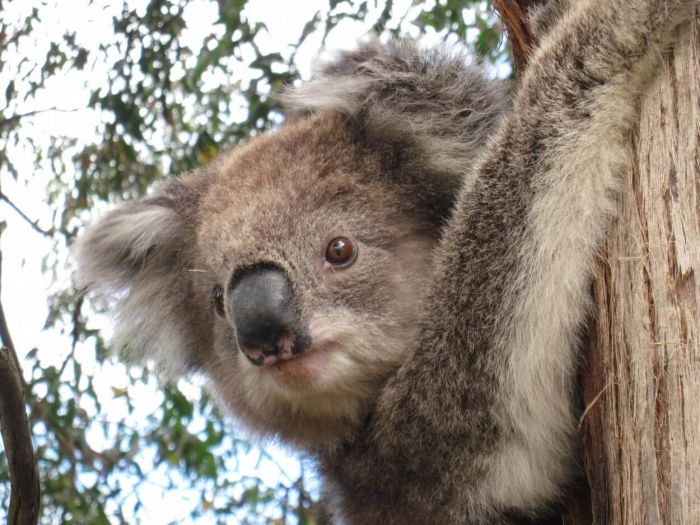 You'll also be sharing the space with the resident family of koala bears who seem indifferent to the comings and goings of the camp's guests. French Island is a nature lovers' sanctuary with miles and miles of trails to explore on the nearby French Island National Park as well as coastline that varies between rocky volcanic shores and soft sand beaches where you'll see nary another soul. During your walks through the native woodlands or coastal wetlands, you'll be likely to see spiny anteaters, Sambar deer, and a range of reptiles. This is a birders paradise with mangrove salt marsh areas and vast woodlands that offer a habitat to 238 species from white-bellied sea eagles, owls, cape baron geese, pelicans, kookaburras and king parrots. The days are exactly what most come to this remote desolate island for – to be left alone with your loved one and nature.    
Wanderings, Mornington Peninsula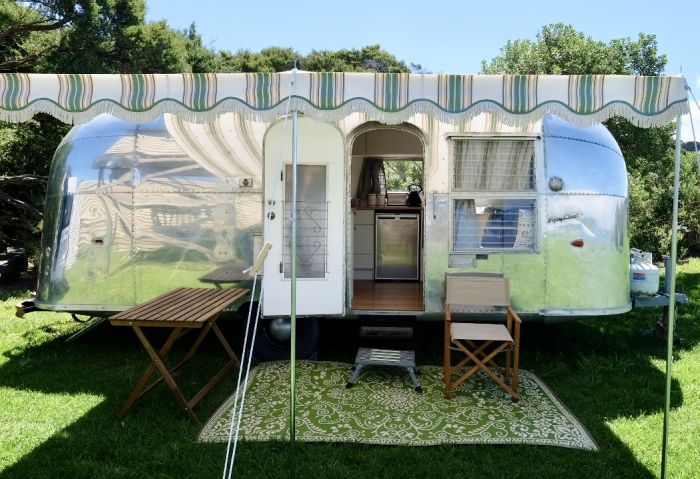 When we travel, our first thought is where we want to go and then where we want to stay. Well, there's an option that allows us to choose where both when traveling to the Morning Peninsula, south of Melbourne. This area is known for its idyllic beaches, natural parks and trekking, as well as epicurean trails and world-class wineries. Wanderlings offers a choice of luxury caravans and several options of where you want to have it set up.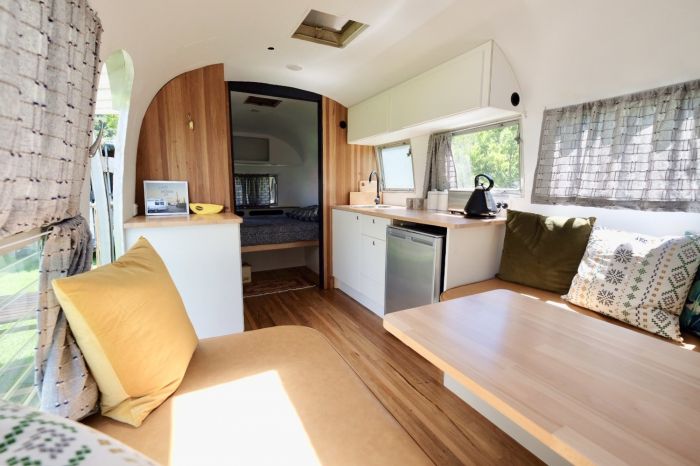 One of their caravans is a silver tube shaped Airstream trailer that looks more like a spaceship than an uber comfy way to get away from it all. The 1960s Airstream is a perfectly restored  22 feet long camper with well-designed interiors, an indoor table, kitchen and defined bedroom area.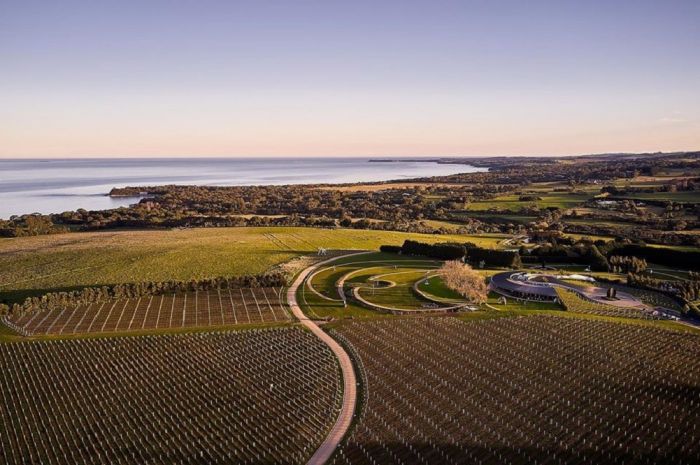 Pt. Leo Estate
One location option is Point Leo which is one of Australia's beloved surfing destinations where at any time of day, old and young alike head to the waves for endless summers of surfing fun. Stop by the Trigger Brothers Surf Shop just outside camping location and ask for Phil Trigger, a sixty something champion level surfer, who'd be happy to fix you up with a custom built surf board or to take you out for a lesson at Craggy Point. If surfing isn't your thing, the beaches and nature walks are spectacular just outside your door. For an adventure of another sort, hit the epicurean trail with a visit to one of the top winery experiences in Australia, Pt. Leo Estate for their exceptional wines and a degustation lunch. You'll also want to spend some time exploring their world-renown outdoor sculptures and exhibits. 
Talo Retreat, Moama on the Murray River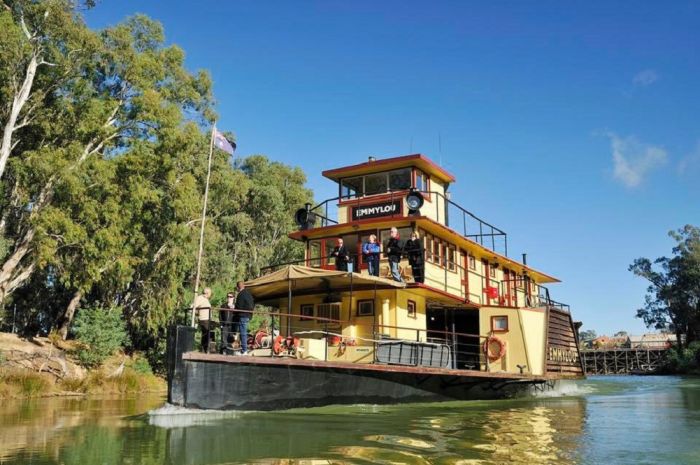 Two hours north of Melbourne and just past the state line of New South Wales is where you'll find the quaint town of Moama and the Talo Retreat. Across a bridge, over the Murray River and the state border, is the much larger town of Echuca which gives this area its coveted tourism credentials  Echuca is a turn of the century Victorian gold rush town that has become very popular for weekend warriors. There's a walking street along the river filled with outdoor cafes, boutiques and shops selling the areas number one export, fortified wines. This is also where their most popular tourist attraction departs, paddle boat rides along the beautiful Murray River.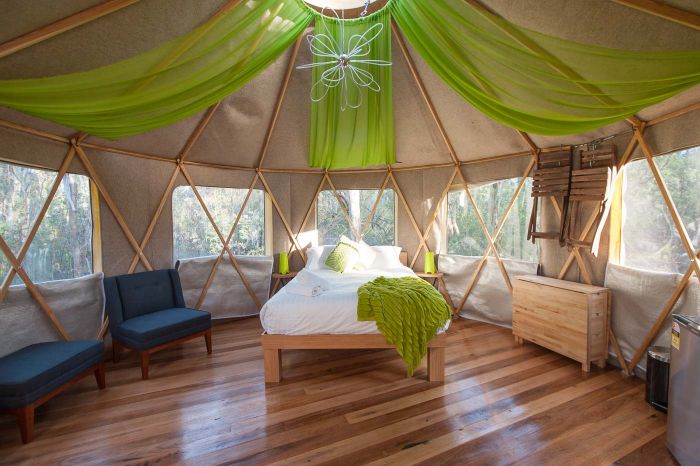 After a bit of sightseeing, head back across the state border to the sleepy town of Moama and a glamping experience surrounded by nature. The Talo Retreat is situated in 82 acres of bushland along the Murray River.  Here you'll find well-spaced out Yurts, a Mongolian style circular tent , created for the elements with canvas walls lined with wool. This is far from a tent yet not as ridged as a permanent structure. The Yurts are well decorated with all the creature comforts from the comfy queen-sized beds, a kitchenette area and an electric fireplace. Outdoors features a full-sized bathroom and shower, and an indulgent outdoor living area with deck, hot tub, hammock and grill.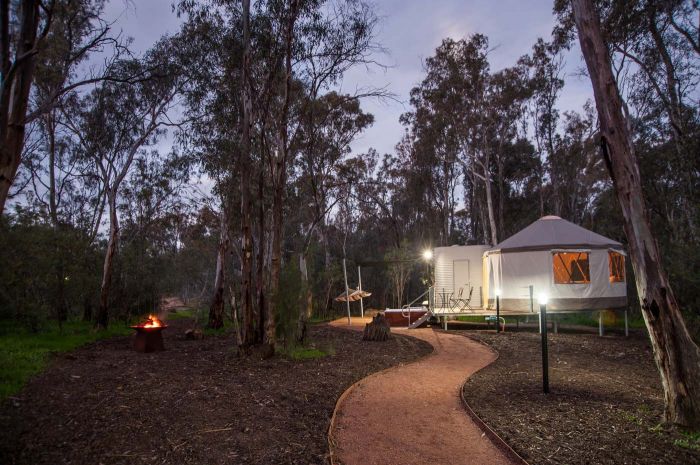 All of this is surrounded by a red gum tree forest, with native wildlife, kangaroos, and countless varieties of birds.  There are exquisite nature trails through the National Park or along the Murray River to explore or use the complimentary bikes and canoes.  The Talo Retreat is adjacent to their sister resort, Moama on the Murray so guests have access to the resort facilities including two pools, bar, and tennis courts.  
Balgownie Estate Winery, Bendigo
Besides its beautiful beaches, the cosmopolitan city of Melbourne, the Australia state of Victoria is also known for its world class wines.  Wonderful chardonnays, pinot noirs, and even prosecco are produced throughout the state.  Weekend getaways are a way of life in Australia where couples take the three-hour drive north of Melbourne to visit the country and to stop in and visit their favorite wineries. Balgownie Estate Winery is a favorite haunt of weekenders for their world class wines, cellar door experience and exceptional dining – all surrounded by the beautiful views of the rolling hills of the vineyards and natural landscapes beyond.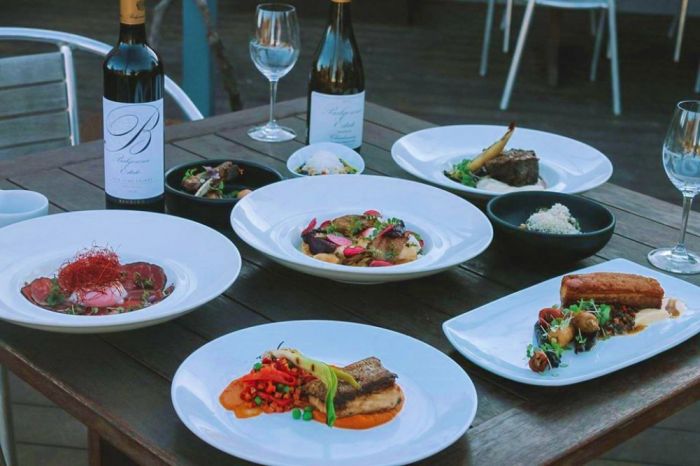 To accommodate those guests who want to make the full weekend of it, Balgownie Estate offers several categories of accommodations from suites and villas to glamping options. Guests will love their glamping in wine estate – waking up each day overlooking the idyllic vineyards and taking in the fresh air – one cannot be any closer to the living in the vineyard.  The glamping options vary from the Bell tents to larger Safari tents, all offer a comfortable bed, all are heated and airconditioned with a lovely outdoor terrace.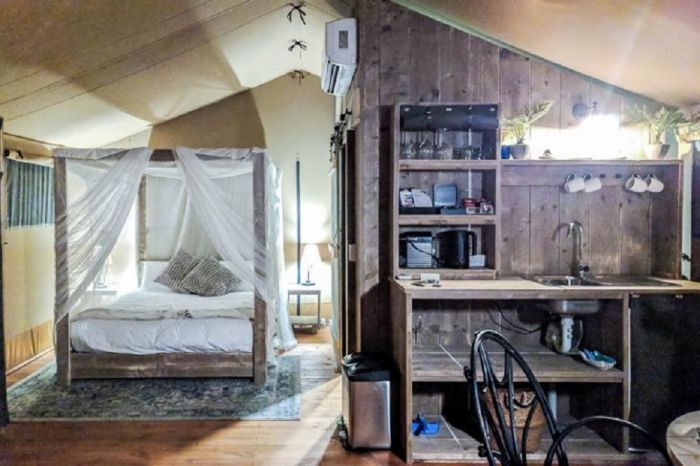 The safari tents fabulous with an en suite bathroom and shower, indoor couch, a four-poster queen-sized bed and a kitchenette. Its most appealing feature is the outdoor deck with a clawfoot bathtub, and a swing chair made for evenings overlooking the sunsets and vineyard while enjoying a glass of wine in hand, of course. 
Notel, Melbourne Central Business District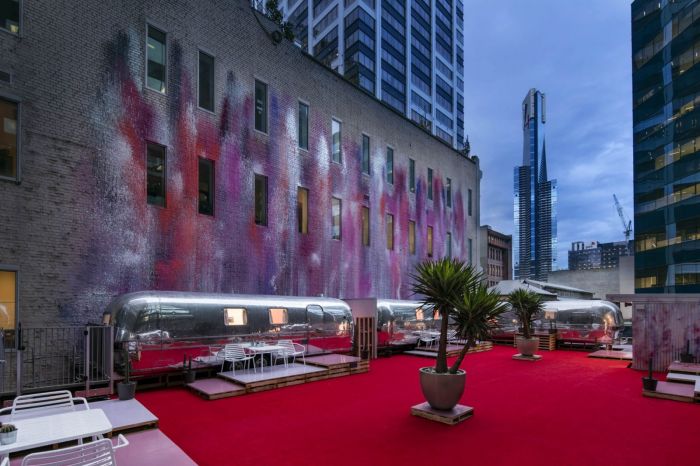 As wonderful as glamping is to get out into nature, one not need always go far from the city lights to experience a glamping adventure. In the heart of Melbourne's central business district is an unusual, if not quirky, stay perfect for the traveler looking for something a bit different. This not-a-hotel is aptly named the Notel Melbourne and is one place that even the most jaded traveler will remember long after their bags are unpacked back home.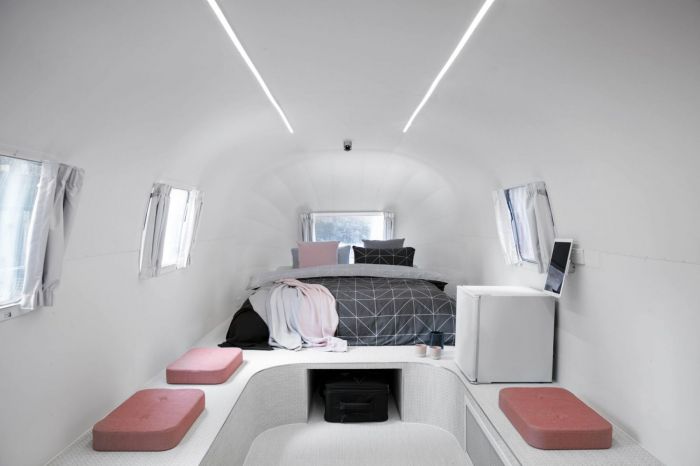 The Notel name reflects its desire to provide something completely different than a typical hotel stay. What guests find are six shiny vintage Airstream campers perched on top of a parking garage in one of the most coveted areas of downtown Melbourne. The layout is unusual, right out of Midwest Americana, with thorny cactus plants atop a bright red indoor-outdoor carpet which acts as a lawn of sort across the expanse. Each unit comes with its own deck with chairs and tables.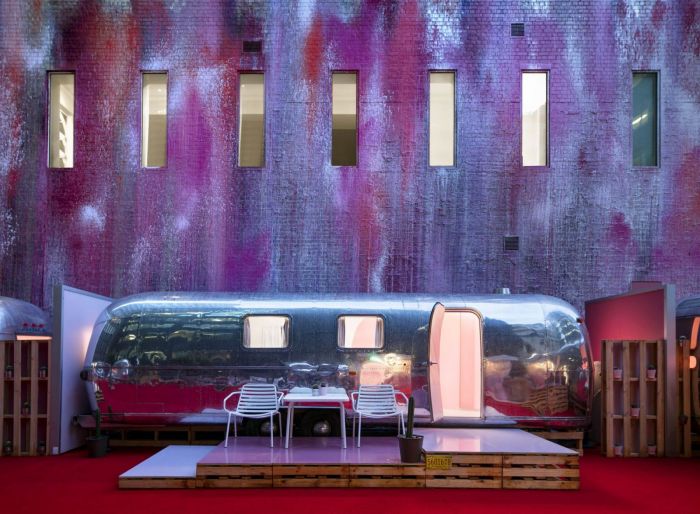 Indoors is something special. To create this urban sanctuary, the owners completely gutted the six campers and refurbished them inside and out and brought back the shiny luster of their exteriors. Indoors in ultra-modern -think spaceship vs camper décor- with high tech living areas, a comfortable queen size bed, a large bathroom and shower and plenty of area to spread out. There's a pretty cool stash of complimentary local snacks, beer, wine, and beverages as well. Guests will also find some cool technology as well including an iPad that doubles as a tv with Netflix and mounts in the sitting area as well as over the bed. The technology doesn't end there with a smartphone key app that allows guests to come and go as they please through the three security doors.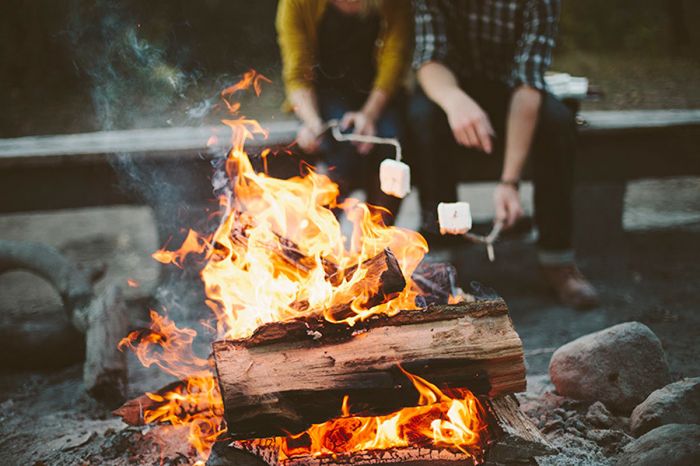 Australia has been social distancing long before it was a life impacting. Stories of walkabouts in the Outback are the norm.  Trekking, getting out in nature, or caravanning is a national pastime and has been for generations.  A great way to add to your planned holiday in a posh city is to add a few days of glamour camping in and away from the city.